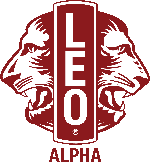 We sponsor a club to allow our young people to get some hands-on service time. The Leo Club develops leadership skills, teamwork, public speaking, and looks real nice on a resume! Many members of our Leo Club have joined our Lions Club upon reaching the upper age limit for Leo membership, which is 18 years of age. Below is a list of the Leo Club's Officers for the Lions year 2022-2023:
[metaslider id=46]
President – Leo Rosaria Napoli
Vice President – Leo Luca Sobue
Secretary – Leo Jenna Kilcz
Treasurer & Lion Liaison – Lion Karen Hicks
The Leos are involved in many activities throughout the year including, their annual pet food drive, and the American Cancer Society Walk for Life.